DISCLOSURE: Ads, Affiliates and Conflicts
Merchant Negotiators accepts advertising via the Google Adsense platform, directly from advertisers, and has common parent ownership interests with other payments related companies leading to potential conflicts of interest. Read our Affiliate / Conflicts / Advertising Disclosure for a more detailed disclosure.
Overview
Etsy allows merchants to accept payments in ten different currencies through a variety of payment methods, including the new Etsy Direct Payment option. This credit card processing service is only intended for Etsy sellers, and offers a mixed bag in terms of quality and pricing. In general, it's expensive, and the customer service isn't ideal, but the entire setup is very convenient. So for small volume Etsy sellers, it's a decent choice. But, if you're doing significant volume selling on Etsy, a third-party credit card processing company will offer significantly better rates.
Etsy is a global shopping mall filled to the gills with shops that offer hand-crafted items, art, art supplies, and vintage merchandise (20-years-old or older). Founded in 2005 in a Brooklyn apartment, Etsy now supports 580 employees and boasts 43.9 million members with 1.2 million active shops. Gross sales in 2013 amounted to $1.35 billion dollars.
No small potatoes, for sure, and Etsy has expanded within recent years to include more services and options for their merchants, including Etsy Direct Payment. This credit card processing feature is in addition to the normal third-party option provided by PayPal. Now Etsy merchants can attend shows or sell their merchandise in stores and sync their inventory to their mobile phones via a card reader and software.
As always, opening an Etsy storefront is free, and each listing costs only $.20 every four months. So how does Etsy make money when those setup rates are so low? When items are sold, the merchant pays a hefty 3.5% fee per item, but increasingly, Etsy is making even more money through marking up add-on services like Etsy Direct Payment. In this review we'll cover Etsy Direct Payment - the Etsy credit card processing service - and help you decide whether you should use it, stick with Paypal, pick your own credit card processing company, or use another alternative.
Detailed Review
Below is a detailed review of Etsy Merchant Services offering. The review is broken down into the following categories.
Features
Depending upon the type of business you own, some of the following features may or may not be important to you.
Etsy Direct Payment and its shopping cart venue offer standard features that any artisan, art supplier, or antiques dealer might want from their merchant services account. One major limitation to the Etsy app is its ability to show discussions or comments the merchant might receive from customers. Merchants do receive notification of those comments via email and can sign in to their accounts through a mobile phone or computer browser to continue the conversation. The Etsy app doesn't streamline that vital part of the sale.
Software Compatibility:
Intuit Quickbooks
Yes
Sage 50
No
Microsoft Dynamics GP
No
Hardware Compatibility:
Windows / Blackberry
No
iPhone / iPad
Yes
Android
Yes
Alternative Transaction Types:
Phone Orders
Yes
Internet Orders
Yes
Wireless Orders
Yes
Mobile Orders
Yes
Snail Mail Orders
Yes
American Express (AMEX)
Yes
Add Tips to Bills
No
eCommerce / Shopping Cart
Yes
International Sales
Yes
Recurring Payments
xxx
EMV Chip Cards
Yes
Contactless Cards
Yes
Loyalty / Gift Cards
Yes
eChecks / Electronic Checks
PayPal
Welfare Benefits (EBT/SNAP/TANF)
No
Security / Fraud Prevention:
AVS Fraud Protection
No
PCI DSS Secure Transactions
Yes
Industry Specific:
HIPAA Compliance (Healthcare)
No
Trust Account Debiting (Legal)
No
Fleet Cards (Petroleum)
No
Online Menu Orders (Restaurants)
No
Countries Served:
U.S.
Yes
Other Countries
Yes
International
Yes
Pricing
Almost every merchant account services company uses either Interchange Plus or Tiered Pricing (to learn the differences read here). Where companies allow us to disclose pricing information, we show the deals that our secret shoppers were able to achieve. When companies offer both Interchange Plus and Tiered Pricing, we try to get a quote on both options.
Our Experience: Etsy truly is an international marketplace, offering rates for every country where they conduct business. While the rates below may seem outrageous, remember that everything is included in these prices. By "everything," we mean all but the $.20 per item listing fee that Etsy charges every four months and the automatic charge of 3.75% per item sold. That doesn't mean it's great pricing (frankly, its definitely not), but it also isn't as bad as it first appears.
| | |
| --- | --- |
| Location of Bank Account | Direct Checkout Fees (% of total sale price + flat fee per order) |
| Australia (domestic orders) | 3% + 0.25 AUD |
| Australia (international orders) | 4% + 0.25 AUD |
| Austria | 4% + 0.30 EUR |
| Belgium | 4% + 0.30 EUR |
| Canada (domestic orders; orders from the US) | 3% + 0.25 CAD |
| Canada (international orders) | 4% + 0.25 CAD |
| Denmark | 4% + 2.50 DKK |
| Estonia | 4% + 0.30 EUR |
| Finland | 4% + 0.30 EUR |
| France | 4% + 0.30 EUR |
| Germany | 4% + 0.30 EUR |
| Greece | 4% + 0.30 EUR |
| Ireland | 4% + 0.30 EUR |
| Italy | 4% + 0.30 EUR |
| Latvia | 4% + 0.30 EUR |
| Netherlands | 4% + 0.30 EUR |
| New Zealand (domestic orders) | 3% + 0.30 NZD |
| New Zealand (international orders) | 4% + 0.30 NZD |
| Norway | 4% + 2.50 NOK |
| Portugal | 4% + 0.30 EUR |
| Spain | 4% + 0.30 EUR |
| Sweden | 4% + 3.00 SEK |
| Switzerland | 4% + 0.50 CHF |
| United Kingdom | 4% + 0.20 GBP |
| United States | 3% + 0.25 USD |
Contract Fine Print
The following fees, which are non-existent for Etsy, eliminate headaches for the merchant who doesn't have the staff or the time to deal with fine print, annual survey renewals, or other financial issues.
Fine Print Fees:
Termination Fee
None
Setup / Application Fee
Yes, on some products and services
PCI Compliance Fee
None
PCI Inaction Fee
None
Gateway Fee
Yes
1099-K Fee
Yes
Statement Fee
None
Online Reporting Fee
None
Monthly Minimum Volume Fee
None
Accept International Pymt Fee
Yes
Voice Authorization Fee
None
Monthly Min. Process Fee
None
Daily Batch Fee
None
ACH / Direct Deposit Fee
None
ACH Charge Fee
None
ACH Return Fee
None
FANF Fee
None
Chargeback Fees
None
Freebies:
The Etsy Card Reader is provided free to merchants who request the swiper. We heard that Etsy fell behind in fulfilling these orders to merchants, but we haven't seen any complaints about the inability to acquire the reader lately.
Store setup is free, but merchants pay $.20 per item to build that store. The merchant can renew that item when it expires in four months for another $.20 charge.
Etsy's partnership with Google's Product Listing ads to feature merchant products. Although merchants currently don't pay for this partnership, which can prove invaluable for bringing in traffic, there's a good possibility merchants may be removed from this service in the future as the plan moves into a payment option.
Our Take: Despite all the front-end marketing to prospective merchants about a free storefront, we couldn't find anything free about Etsy other than the items noted above. Although merchants aren't paying for any "gotchas," the payment comes with each sale. If you're a high-volume high-ticket seller, you might benefit from the extra hassle to find a third party merchant account services company instead of using Etsy so that you can save some money.
There's something to be said about being an Etsy merchant, however. Etsy offers a streamlined process that is easy to use and that focuses on the arts and vintage products. Although the back-end payments are high, we discussed Etsy's fees with a few users and one merchant stated, "I could have an Etsy shop and pay about 7% for using their format and their credit card services...or I could put my items in a gallery and pay that gallery anywhere from 40% to 60%." When put into that perspective, along with the ability to be seen by a global market, we feel that Etsy may be doing many artists a favor.
Equipment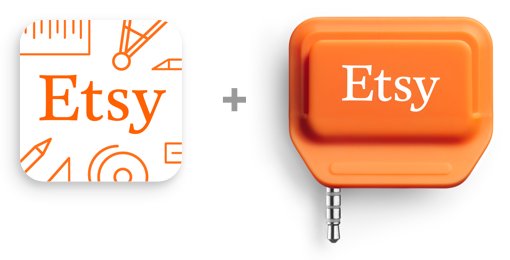 While your transactions usually take place electronically, the actual device that you use to swipe a customer's card is referred to as "the equipment." This equipment includes hardware and, often, software or apps for that hardware to function properly.
To open a shop, all a merchant needs are product photographs, product descriptions, ability to use Etsy's online shop software, a credit card, and a PayPal account for third-party credit card processing. Now Etsy merchants have the option of using Etsy's Card Reader and software to make things a bit easier for face-to-face sales. If merchants are puzzled about any aspect of this program, Etsy offers plenty of documentation, videos, and forums to help the merchant through the process.
HARDWARE
Etsy Card Reader: Etsy offers a free credit card reader to an Etsy merchant upon application for their Direct Checkout plan. This reader, which is large, orange, and stamped with the word "Etsy" in bright white letters, comes stored in a wood box that doubles duty as a card stand during events such as trade shows.
SOFTWARE
Software: The "Sell on Etsy" software is easily downloaded and ready to use. Merchants can check stats, make sales, and even use an option for cash payment without the card reader. Be aware that this app is different than the Etsy buyer app, which doesn't allow merchants to view their dashboards.
Countries Served
Esty offers their merchant services around the globe and in many different currencies. Etsy sellers not only can accept other currencies, they have other payment choices. They can continue to use PayPal, their own credit card merchant accounts, cash, checks, money orders, and they can swipe Etsy Gift Cards as if they were credit or debit cards. Although Etsy doesn't have integration with QuickBooks, Etsy sellers can find a team that focuses on manual operations. Additionally, specific apps such as Zapier can transfer data from Etsy to your QuickBooks.
Contract Length / Termination
I generally don't like long-term contracts or termination fees in merchant services agreements, because the ability to cancel keeps the credit card processor on its best behavior, including the willingness to make you happy if there's a dispute. Plus, this ability to cancel gives you the ability to move on if you find a better deal.
Etsy sellers can delete their storefronts anytime without termination fees. There are no monthly fees, so surprise charges won't be a problem. Etsy only asks that you fulfill payment on your items listed fees or any other charges, and they'll subtract those fees accrued either through the credit card you submit for payment, your merchant account, or your PayPal account. Once those fees are paid, then you're done. Kaput. Finished. Supposedly no more surprises.
About the Company
The merchant account services industry is multi-layered. Understanding how those layers fit together can be confusing (Read More in this Article). A good thing to know, however, is whether or not your company is a direct processor (good if yes) or, if not, then to know who they process with and whether or not that processor is reliable. The second thing to know is whether or not the service or sales staffs are in-house or outsourced. In-house staffs are preferable for you, as these staff members may have more access to sources that can resolve your issues.
Processor: Etsy is a prime example of a merchant aggregator, and as such can offer merchants the ability to take credit card payments without upfront credit checks or outrageous setup fees. That's the upside to Etsy for startups, because merchants don't pay for any services other than the minimal listing fee until an item sells. To that end, Etsy definitely seeks out successful merchants and markets them on their front pages and in articles as a reward for those sales.
Account Sales: At this time, Etsy Direct Checkout is not compatible for integration with any third-party online markets, so marketing is geared only toward new and existing Etsy merchants. Anyone can read the information about Direct Checkout through the link provided by Etsy located at the bottom of their pages. There's a lot to be said about Etsy's online pricing transparency, which is apparent but scattered throughout the site. This transparency is important, as any new or existing Etsy merchant may find it difficult to contact a sales or service representative.
Account Service: Etsy is notorious for its lack of contact information for both sales and service. Most complaints are centered on that issue. But, we found this information buried in the site: "Etsy phone support operates 7 days a week from 10 a.m. to 10 p.m. Eastern US time. We will call you wherever you are in the world, but we can only offer phone support in English at this time." To contact support, users need to use the "Request a Phone Call" tool. That tool provides a limited range of options for complaints or issues. Once you fill out that form, Etsy guarantees they will respond to you via email or by phone within 15 minutes.
Customer Service
As part of our review process, we try to test merchant account service companies' claims by placing test calls and working through the customer service process.
Common Customer Complaints / Our Verdicts
We scoured the web to find past and current customer complaints about Etsy's services. Then, we investigated those complaints that seemed legit, and provide our verdict on how well the processor handled the issues. Most of the complaints we found were from buyers who had bad experiences with individual sellers. That's not our focus here today - the focus is on complaints between merchants and Etsy regarding the Etsy Direct Payment.
"Sell on Etsy" Software Limitations:
Customer Complaint:
When it comes to the Direct Payment program, this is the most frequent complaint. We also read that the app doesn't display correctly at times on tablets, which can be a huge concern for merchants who want to sell face-to-face.
Our Verdict:
The software could be improved to be a stand-alone feature that isn't reliant on a browser or a computer to gain access to the full merchant dashboard. The app is limited to displaying "Activity," which shows who "favorited" an item in your shop, stats such as the number of views, items viewed and favorite, revenue for any given day, week, or month, and the number of orders within those time frames. Although we're very fond of the "Sell Now" feature that includes a way to sell by cash without any charges other than the standard 3.75% per item, that feature is worthless if a person cannot use it on a tablet. We hope Etsy works toward fixing those issues soon, because it would be to their benefit.
Poor Customer Service:
Customer Complaint:
This complaint comes from Etsy sellers toward Etsy, but those complaints actually are few and far between considering the number of shops on the Etsy site.
Our Verdict:
Granted, it isn't easy to reach Etsy, but Etsy supplies a plethora of resources that do answer just about any question a seller might have about selling on Etsy. Among those offerings are rules and regulations that the seller cannot, for any reason, violate. Etsy seems to smell those violations from a mile away, and they can suspend or terminate your shop or your account for any reason known or unknown to the seller. If the seller uses the contact form for major issues, we feel that Etsy will respond.
High Fees:
Customer Complaint:
This is a rare complaint.
Our Verdict:
We feel, considering the fine print "gotchas" and fee breakdowns are upfront and reasonable, that Etsy is fair enough for a global market.
>Inability to Close Account:
Customer Complaint:
Again, a seller issue, and just a few complaints in this arena.
Our Verdict:
We can't know why the inability to completely close a shop is an issue for the few merchants we encountered, but we suspect that the merchants owe money. We thought we'd add this complaint to beef up the list, because we found few other complaints about Etsy's Direct Payment services.
Who Should / Shouldn't Use this Processor
WHO IT'S GOOD FOR:
Small Merchants: Etsy offers a different global venue for creators and curators to sell their goods, especially starting out. The fact that Etsy Direct Payment is a little more expensive than third party providers is outweighed by the convenience of using it. So, it's a good option for many artists.
International Businesses: Etsy offers a strong international venue for artists and antique dealers. Be aware that there is a deep learning curve on postage, which Etsy doesn't calculate for the merchant.
Non-Detailed Oriented Business Owners: If you don't want to deal with details, then Etsy direct payments is for you. It's the easiest option you have as an Etsy seller. However, just know that you're paying quite a bit for that convenience in the form of higher fees.
WHO IT'S NOT GOOD FOR:
Medium-Sized Businesses: If you're an established antique or art supply dealer, or you're otherwise doing a significant volume of sales each month, you'll likely find that it's worth it for you to go through the added hassle of setting up a third party merchant account service with a dedicated company, because the cheaper rates will really add up for you.
Large Businesses: If you're doing a lot of sales, then I might question why you're on Etsy generally. But assuming it's working for you, you'll definitely want to look for a cheaper merchant account services company. The roughly 1-2% you can save with them over Etsy Direct Payments is going to mean a ton of money.
Price Sensitive Business Owners: If you want the cheapest deal, this isn't it. Far from it, actually. Use a third party merchant service instead.
Detail-Oriented Business Owners: If you're organized, you can save quite a bit by skipping Etsy Direct Payments and using a third party provider. But its an extra hassle, so decide if that's worth it for you.